If your website has a blog, you must understand the significant role it plays for the business. Unfortunately, the majority of organizations fail to utilize the full potential of their blog. Research conducted by Statista revealed that there are over 600 million blogs today, and only 65% of them have not been updated in the past year!
What does this imply? The website is losing its ground and falling into a "blind spot," as search engines prefer blogs that attract more organic traffic than their competitors.
In this article, we will delve into blog SEO optimization, as well as discuss recommendations and SEO tools for the blog that will increase your website's traffic.
The purpose of search engine optimization
Blog optimization (SEO - Search Engine Optimization) involves specific actions that enhance a website's visibility in search engines. It's simple: improved visibility leads to increased visitors from organic search, which in turn boosts the success of the blog and, consequently, the entire business.
This form of promotion is one of the most cost-effective options, but patience is key to seeing the initial results. All that can be done is to thoroughly study how search engine algorithms work and test the most effective optimization methods on your own.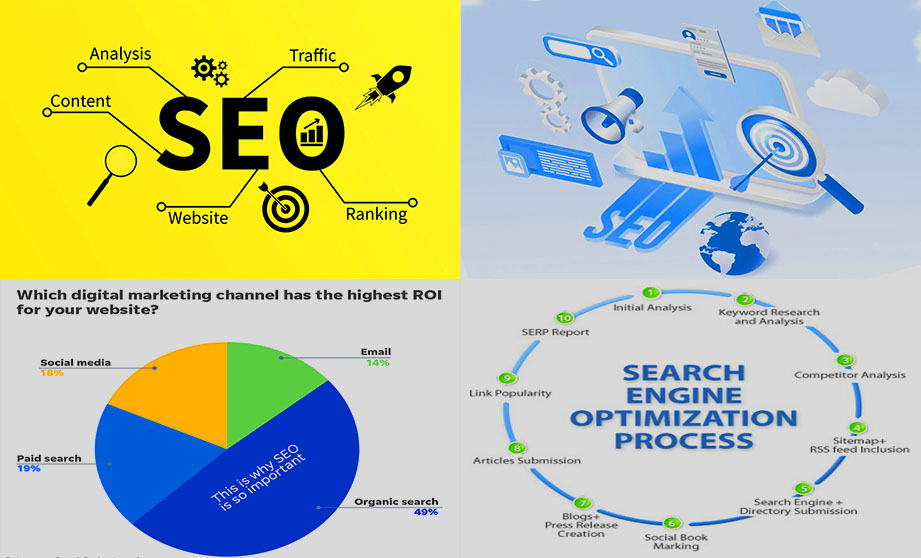 Benefits of Quality Blog Management
The benefit that SEO optimization of your blog can bring to your website, and thus your business, is invaluable:
Blog articles increase traffic, consequently boosting the number of new users.
Placing high-quality links in articles will enhance the website's ranking in search engines.
Blog content can also be shared on social media or other platforms.
Articles can be enriched with diverse content such as surveys, statistics, photos, and videos, providing long-term benefits for website traffic.
Through a blog, brand recognition on the internet can be elevated, leading to new conversions.
How to Properly Optimize a Blog
SEO optimization for a blog consists of several stages, and below we will discuss them in detail.
Fix Technical Errors: Successful promotion of a blog in search engines requires dedicating time and attention to technical optimization. To determine what needs improvement in your blog in this regard, check the following components:

Website loading speed: The longer a website takes to load, the lower the likelihood of it ranking high in search results.
Duplicate pages: The presence of the same information on multiple addresses can cause incorrect indexing of the site.
Broken links: These should not be present; otherwise, clients won't be able to access the information they're seeking.
Correct coding: Every blog page should display correctly on any device, and the code should be free of syntax errors.
Robots.txt correctness: This file directs search robots to the pages needed for indexing and blocks 'service' pages. If there are errors in the instructions, the opposite effect can occur.

Optimize Headings and Title Tags: Blog optimization involves having headings in articles since the heading is the first thing users see. Therefore, it should spark interest and accurately reflect the content of the text. Don't forget about the Title tag.

The Title tag is the first piece of information that a search robot sees while scanning a page. It should contain the most accurate and concise description of the article. Optimizing these tags will increase the number of users on your website. The Title should convey the content of not the entire blog but the specific page. It's preferable for its length not to exceed 60 characters to avoid it being truncated by search engines.
You see, first comes the page title, and then the blog title itself. That means if your blog is about travels in general, and a specific article is dedicated to a particular country, the title should display the topic taken, not the overall blog theme.
Identify Keywords
The first thing to find out is what your target audience is interested in and pick the keywords. This is necessary to locate the necessary words or phrases and then highlight them in the text prepared for SEO.
There are three types of keys that can help in blog SEO optimization:
High-frequency queries. These are keywords that generate an average of one hundred thousand search queries per month. These words will increase traffic to the site, but they are general, and you shouldn't focus on them – there is quite a bit of competition.

Medium-frequency queries. They are searched for no more than a thousand times a month. It's easier to promote the site using them than the previous ones.

Low-frequency. In this case, less than a hundred displays per month. A more precise keyword or phrase, aimed at customers with industry-specific queries. They don't bring much traffic but have low competition and bounce rates.
When selecting keys, consider these points:
Search volumes – the number of requests for relevant keys. Tools like Serpstat can help measure it.
Trends – show interest by regions, similar topics, and trends over a certain period. You can view this information using Google Trends. We've described how to use this service in detail in this article.
Difficulty – you can assess how difficult it is to rank for a specific key. Use the Ahrefs service for this.
Use Internal Links
Thanks to internal links, search engines and users can navigate the site when looking for the necessary information. Search engines follow such links to find more material within one domain and rank it. Linking to other relevant information in your domain helps users find more content on the topic.
There are types of internal links:
Contextual. These are links to other articles in the blog related to the discussed topic. Such links are necessary to help users find more information and establish a relationship between the pages of the site.
Navigation. These links link web pages, helping clients move between such pages, like the footer menu and the main menu.
Optimize Visual Elements
Articles without visual elements can deter readers. Therefore, in SEO for a blog, images play a fairly important role. Diagrams, pictures, photos, and videos illustrating the article help convey the idea better and attract more user attention. Images should be relevant to the post's content to avoid confusing readers. So, make sure that such content is useful and valuable. Visual elements come in such types:
Photos and pictures. To make the article unique, use original images. Additionally, you can optimize them to increase the site's rating.
Screenshots. With their help, you can easily show users how to do something using your example. To draw people's attention to something important, you can encircle it, underline it, or indicate it with an arrow on the screenshot.
Diagrams. By using a diagram, you can visualize a specific process or concept.
Video. By adding a video to the article, you can increase the time readers spend on your site. Also, you can link the publication to another blog channel using it.
Adapt the Site for All Types of Devices
Reading the blog should be convenient everywhere – on a computer, tablet, and phone. Most people use smartphones now, so algorithms favor sites that display well on all types of devices.
Keep Your Articles Updated
Refreshing your content enhances audience engagement and retention, as people always seek fresh information. Additionally, updating allows you to optimize SEO on your blog. Moreover, writing a new article takes more time than updating an existing one. This method helps notify search engines to scan your site and preserve the information. Google's algorithm includes a freshness aspect of the content. The search engine regularly replaces old pages at the top of the search results with updated content.
Pay Attention to Meta Tags
Thanks to meta tags, users see a brief summary of the article right in the search results. These are HTML elements that drive organic traffic to your site. Although search engines automatically generate a snippet from the first 160 characters of your article, we still recommend manually adding a meta description to optimize your blog. Search engines also see keywords in the search string from the tags, helping improve traffic, even if it doesn't significantly affect ranking.
The meta description must be unique. And remember, everything in the article should match the same topic. If search engines determine that the description doesn't align with the content, they may not use it.