An online store can be either a standalone business or an additional sales channel for a company that also operates offline. Creating and launching such a store today doesn't require a lot of time and resources.
Consequently, the competition is quite high, and the more popular the niche, the more effort is needed to make the online store stand out to customers and drive purchases.
In the competitive landscape, it is essential to:
Secure top positions in search engine results for key queries to ensure high traffic;
Work on the marketing aspect of website design and content, ensuring user-friendliness for better conversion rates;
Utilize additional sources of targeted traffic.
To promote online stores, a specialized strategy is developed, incorporating both nominally free and paid methods.
Which tools are most effective for promoting online stores?
The list of proven tools includes: Internal and external SEO optimization; Pay-per-click advertising (PPC).
The first method is nominally free – with the necessary skills and sufficient time, one can promote the online store independently. On the other hand, PPC and Google Shopping require mandatory financial investments. Search engine optimization (SEO) for an online store extends beyond the website. This means that in the initial months of promotion, it is necessary to steadily build the link mass.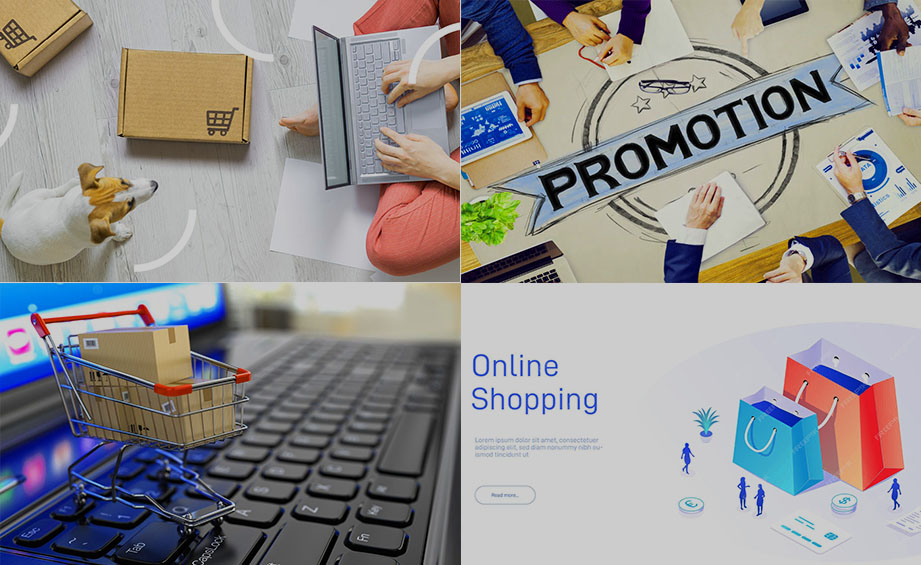 SEO promotion: the primary way to increase search rankings and attract a buying audience SEO optimization is the main source of traffic, constituting 60% of traffic from organic search results.
This method is focused on long-term effects but requires time to achieve the desired results. Even to ensure the indexing of a newly launched store, it takes about 2 months for basic SEO. Therefore, other methods are simultaneously applied with SEO to promote the website in Google within shorter time frames.
The initial stage involves internal optimization, i.e., working on the website itself. It includes the following measures: Technical work, including addressing deficiencies identified during a technical audit.
Technical errors contribute to lower rankings in the search results, making their resolution a critical task. Often, incorrect redirects, oversights in sitemap and robots file completion, removal of broken links and duplicate pages, and optimization of website tools and page loading speed need correction. Next, the title and description meta tags are fine-tuned – they must be unique and enable proper indexing.
The title (page title) should contain the main keyword and be user-readable, while the description (brief description) should provide more detailed information to the search engine and the user about the page's content. The quality of the description directly affects the snippet's click-through rate, which influences rankings. After addressing these issues, efforts are directed towards the growth and development of the website. This could involve expanding functionality, changing the domain or content management system, depending on the needs.
Expanding the Semantic Core and Structure
The semantic core is a set of keywords and phrases through which users find what they're looking for on the internet, in this case – a store and its products. Keywords are grouped based on relevance, and each cluster is placed on a separate page corresponding to the list of similar user queries. The completeness of the semantic core directly impacts the visibility of the online store, as it will appear in search results for a significant number of relevant search queries.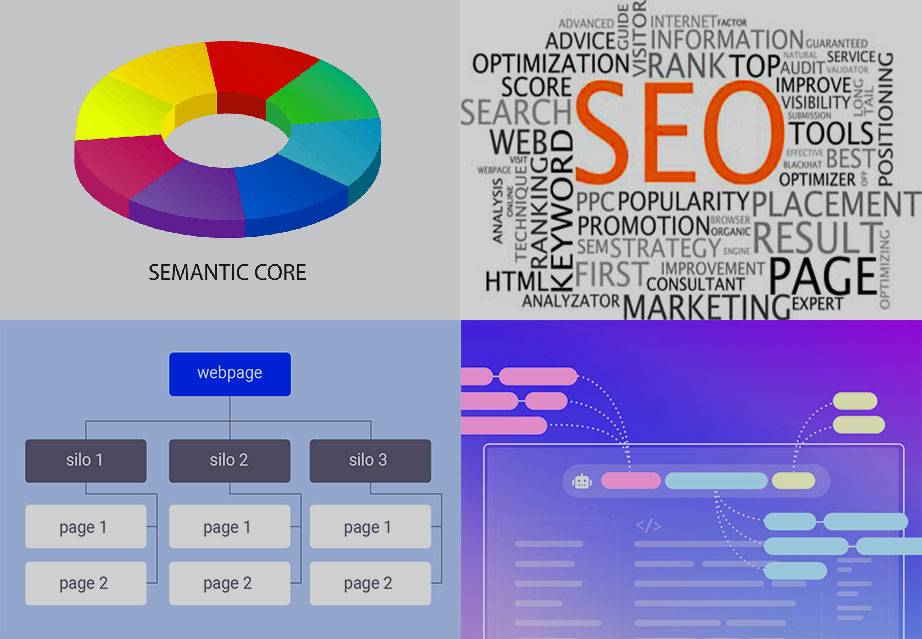 When forming and expanding the semantic core, it's important to ensure there are no irrelevant keywords. These can include names of products, models, categories, and brands that are not in the assortment, mentions of competitors, and words that attract non-targeted traffic (e.g., "cheap" if the site specializes in selling premium products).
After collecting and clustering the semantic core based on the created keyword groups, the website is structured. Keyword groups are evenly distributed across designated pages to facilitate easy scanning by search engine bots and immediate product or category discovery for users.
Categories and subcategories are organized to be intuitively understandable for users. Proper interlinking should be in place with minimal page nesting and no broken/cyclic links. A tree-like structure is considered optimal for online stores, allowing customers to navigate the site efficiently, finding subcategories first, then categories, and the desired product thereafter.
Content Optimization
The quality of content influences the promotion of an online store both directly (search engine bots evaluate uniqueness, keywords, etc.) and indirectly (affects behavioral factors). Primary attention should be given to product descriptions on the pages, which should be detailed and informative, including the current prices of the products and accompanied by high-quality photos from various angles.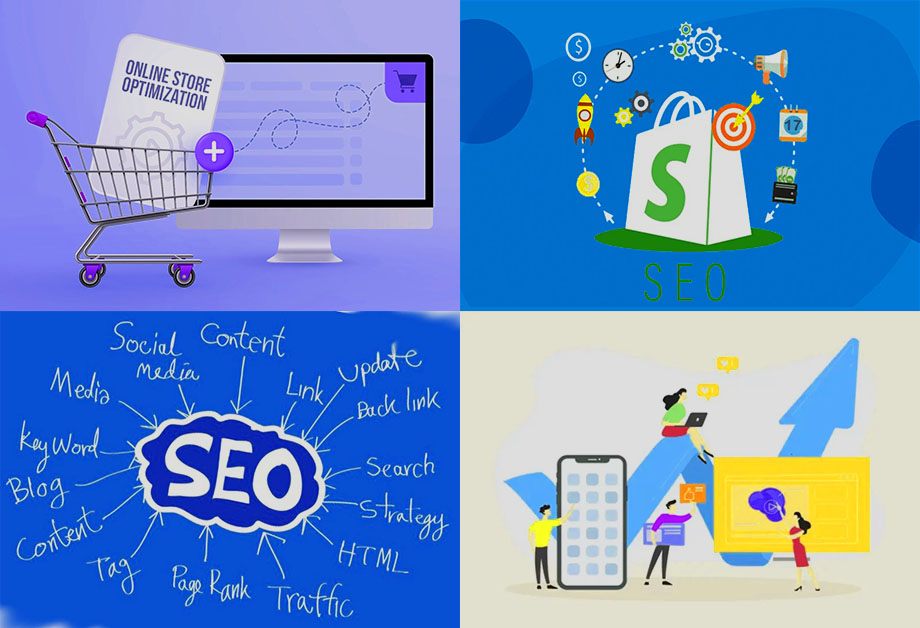 Video reviews are also appropriate, assisting potential buyers in better understanding the product's features. Ideal quality indicators for texts (including blog articles) when checked with Unicheck services are uniqueness above 95%, keyword frequency up to 3%, wateriness up to 60%, and academic nausea up to 9%.
Image optimization, photos, should also be a focus. To ensure that high-quality graphic content does not slow down page loading, it is recommended to use small photos for initial page viewing and higher resolution images on the actual page so visitors can examine the product in detail.
Ensuring User-Friendly Website - Usability.
This is a significant aspect of internal optimization, as behavioral factors and conversion largely depend on it. If the store is uncomfortable for users, they quickly leave the site for competitors. To improve usability, UX specialists study the user interface and visitor behavior on the pages, analyze the data collected, and create a plan to enhance interface convenience and navigation. This involves setting up and improving the store's structure, search tools, and product filtering and sorting mechanisms.
External Optimization for Promoting an Online Store in Google
Promoting an online store in Google, like websites of other niches, won't be effective without external optimization – building a strong backlink profile. Google considers the weight of the backlink profile as the primary criterion for ranking. Additionally, external links boost traffic, which is crucial for the success of online retail.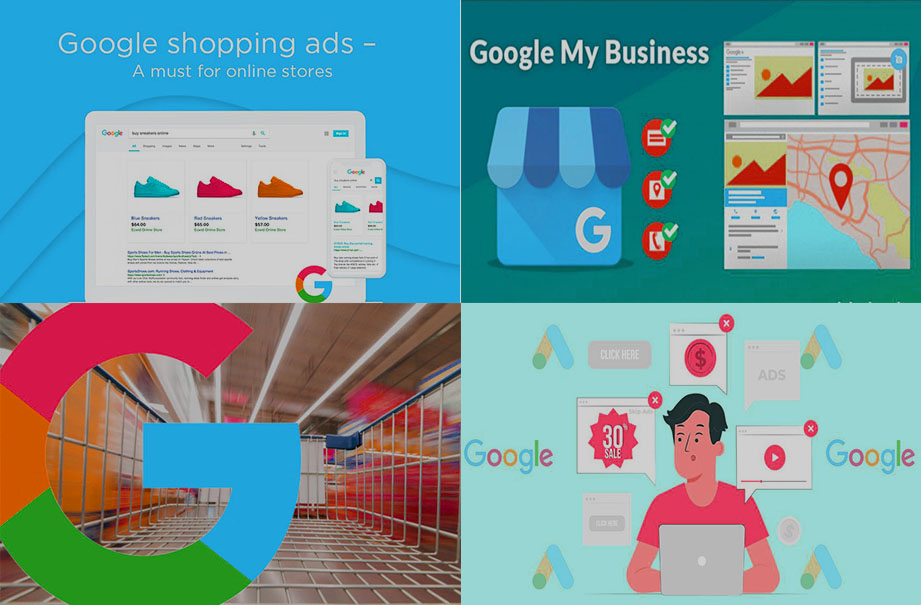 When undertaking external promotion, the following factors need to be taken into account:
Number of referring domains. This is important, but focusing solely on quantity is not advisable.

Relevance between the linking domain and the promoted site. Thematic relevance is crucial for being present on the target audience's platform. If the platform's theme, where the link is placed, does not align with the online store's theme, it will have little impact on ranking. Excessive links on thematically irrelevant pages leading to the site could result in penalties.
Visitation of donors. The higher this indicator, the more clicks the placed link will receive.
Natural dynamics of backlink growth. A sudden increase or decrease in the number of backlinks may raise suspicion of artificial manipulation by search engine bots, leading to the application of filters.
Proper distribution of different link types. It's optimal for anchor links to constitute 10% of the total, non-anchor links 60%, and mixed links 30%.
Distribution of static page weight. Internal linking within the site and the pages to which the links lead should be addressed during internal optimization but may require adjustments at times.
Link building is carried out according to a well-thought-out strategy, focusing on the factors mentioned above. Initially, a competitor audit is conducted to understand the types of sites they are placing links on (including the latest sources), the ratio of link types they use, and the dynamics of changes in their link profile. By studying this data, effective strategies from competitors can be adopted, and their mistakes can be avoided.
Next, an analysis of the site's own link profile is necessary, especially if the domain has been in existence for over a year and other sites are referring to it. If negative impact links are found, they should be closed from indexing:
Temporary links, especially those placed within a single campaign. Closing them should be gradual, as a sudden disappearance of links can lead to penalties.
Links placed on non-relevant thematic platforms.
Backlinks from web resources that have been sanctioned.
Once the playing field is clear, you can proceed directly to building the link profile. There are three methods used:
Content Marketing (Article Promotion): Placing articles with links on third-party thematically relevant websites.

Crowd Marketing: Placing links on forums, review platforms, etc.

Submissions: Registering or adding information about the online store to various directories, services, business catalogs, etc.
Submissions require specific consideration. The quantity of submissions for each niche is limited. It's rational to register there even before starting the promotion since the main task is to get additional targeted traffic. First and foremost, you should register with Google My Business. Additionally, if the company has a physical presence (e.g., its own order pick-up point or offline store), you can add it to Google Maps.
To make the growth of the link profile appear natural, new links should be added smoothly and gradually, increasing the volume each month. Here's a starting strategy:
First Month: Up to 50 crowd links, up to 6 article links.

Second Month: Up to 5 press releases and the same number of article links, around 50 forum links.

Third Month: 70 forum links, 5-7 article links, 5 from the main pages of thematic sites.
However, it's important to remember that the most effective approach is an individualized strategy based on competitors' data.
It's also crucial which pages of the site the links are added to. The main focus should be on the homepage. Next, you need to determine which pages need the most improvement.
Among them might be:
Pages optimized for high-frequency commercial queries.

Category pages with high conversion and engagement rates.

Product pages with a high average check.
The ranking in search directly depends on the number of domains linking to the promoted page. The distribution of link weight also occurs between pages within the online store. The predominant percentage of backlinks should be directed to the homepage since it passes on weight to the other pages of the site.
Mistakes to Avoid in Marketing Efforts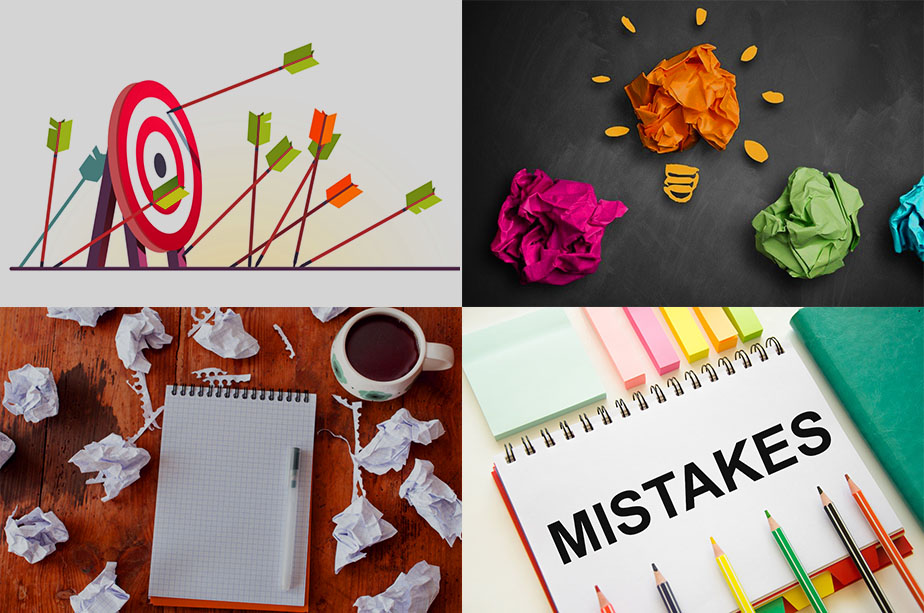 Actions without Goals and a Plan: Undertaking actions without clear goals and a step-by-step marketing strategy for the year is ineffective. A well-thought-out plan is essential, subject to adjustments based on monthly performance analysis. Random actions not only result in irrational spending but also yield very low results.

Lack of Analytics: Failing to periodically track the key performance indicators of the website is a mistake. Analyzing these indicators helps understand what factors are affecting them the most and how they can be improved.

Attempting Immediate Competition with Niche Leaders on High-Frequency Queries: Trying to compete directly with top competitors in the niche for high-frequency queries in the early stages of promotion is impossible. Early efforts should focus on low-frequency queries where competition is lower.

Deficiencies in Product Card Content: Inadequate product card content can significantly reduce the conversion rate of the online store, requiring immediate action. Product and category descriptions should be informative, unique, and presented in a style that appeals to the target audience. Using only one photo for a product is insufficient; multiple high-quality images from different angles help customers make informed purchase decisions.

Over-Reliance on Uniform Traffic Sources: Relying excessively on a single traffic source can be detrimental as each source has its pros and cons. A comprehensive approach is necessary to reap the benefits of multiple sources and mitigate any shortcomings of a single tool.
All these mistakes stem from an unprofessional approach or choosing the wrong contractor. For an effective website promotion, the best choice is to entrust most or all of the tasks to a team of professionals in a reliable agency. Collaborating with freelancers always carries a risk, and in-house specialists may struggle when faced with an extensive range of tasks.